You are currently browsing the category archive for the 'Uncategorized' category.
I was expecting better from the Trump team, because if they could deal Biden a blow right now Bernie would be the most likely candidate.  Alas, it's really weak stuff.  It's been a contradiction from the beginning, and the media hasn't bothered to push Trump's people on it.  Finally, a reporter noticed!
From Josh Kovensky live blogging from TPM:
"Bondi said that Hunter Biden joined the board of Burisma after British authorities opened a money laundering investigation into Burisma and froze $23 million in bank accounts linked to its owner.

That is strictly true, but it misses another point: that investigation stalled out because Ukraine prosecutor general Viktor Shokin refused to cooperate with the probe. His office ignored mutual legal assistance requests sent by U.K. law enforcement, and a British court eventually ordered the accounts unfrozen due to lack of evidence.

This, and other examples of Shokin's failure to fight corruption, led to international calls for his removal, spearheaded by, you guessed it, Joe Biden.

Bondi thus raises an example which contradicts the entire basis for the scandal: that Joe Biden advocated for Shokin to be fired to stop an investigation into his son. No. Ukrainian officials were pressured to sack Shokin in part because he failed to cooperate with an investigation into Burisma itself.

Whether or not you think Hunter Biden cashing in on his dad's position is wrong from a moral standpoint is immaterial here; the investigation Bondi cites ended because a key figure in the conspiracy theory Bondi is moving towards pushing — Shokin — refused to cooperate."
In other words, Burisma may have hired Hunter hoping to buy access to Hunter's father, but if that was the goal it failed miserably.
I'm really amazed that CalTrans went forward without a Coastal Commission permit.  If a private party did that we would be talking major fines!
Honestly though, the Eucalyptus is an invasive species from Australia (revenge for the rabbits?) which is eaten by no organism in California yet.  Should anyone require a permit to remove them?
It's got at least two Republicans wavering and the rest of them freaking out.  Mind you, I think Bolton is a sleazebag and I don't trust anything he says until I understand his agenda.  But it has made things a bit more interesting.
I mean, nobody who is intellectually honest and not in extreme denial who watched a significant portion of last week's presentation can come out of it concluding anything other than impeachable guilt, but McConnell has a stranglehold on Republicans, who in future years will be coming up with all kinds of apologies for their votes.  Some key voices have been kind of low if not silent of late.  We all know that the President tried to shake down another country by withholding Congressionally approved aid to his own personal benefit rather than to pursue national foreign policy interests.  He and his cronies did it.  And he will not be removed from office for it.
So the question is – what will voters have to say about it in the fall?
From TPM's impeachment live blog:
Furious Republican senators were calling the White House this morning to tell them how they were blindsided by Bolton's manuscript, according to NYT reporter Maggie Haberman.
The senators also reportedly demanded to know which administration officials knew about Bolton's bombshell account, given that Bolton's lawyer gave the White House a copy of the book on December 30.
Schiff told reporters that he's "pleased" that the senators are "reconsidering" their refusal to allow witnesses.
Per a CNN reporter, Graham added to his other comments that it's "important" to get the manuscript of Bolton's book into the proceedings.
Lindsey Graham: "What we have to do here is evaluate (Bolton) manuscript and see if it's a reason to add to the record," he said, per @byrdinator. Asked if he would support a subpoena to get the manuscript: "I want to know what's in the manuscript, yeah, I think that's important"
329 people are talking about this
Sen. Roy Blunt (R-MO) said that he wouldn't need to hear from Bolton, or any witnesses, unless they'd "change the outcome" of the trial.
It's quite an admission that there is a predetermined outcome at all — Blunt, like the rest of the senators, is, in theory, supposed to be an impartial juror. Though many senators have not acted that way, Blunt is candidly admitting here that potential first-hand evidence of Trump linking Ukraine aid to investigations into his Democratic rivals would not change the outcome of the trial — aka, acquittal at the hands of a Republican majority.
From a Bloomberg reporter:
Roy Blunt says he's unlikely to vote to call Bolton.

"Unless there's a witness who's going to change the outcome, I can't imagine why we'd want to stretch this out for weeks and months. And if we call any witnesses who are subject to privilege, it would take weeks and months."
356 people are talking about this
Bolton's book, titled "The Room Where It Happened: A White House Memoir," will be released on March 17, according to Amazon.
Hmm, wonder what room Bolton's referring to — could it have something to do with the giant oval on the cover?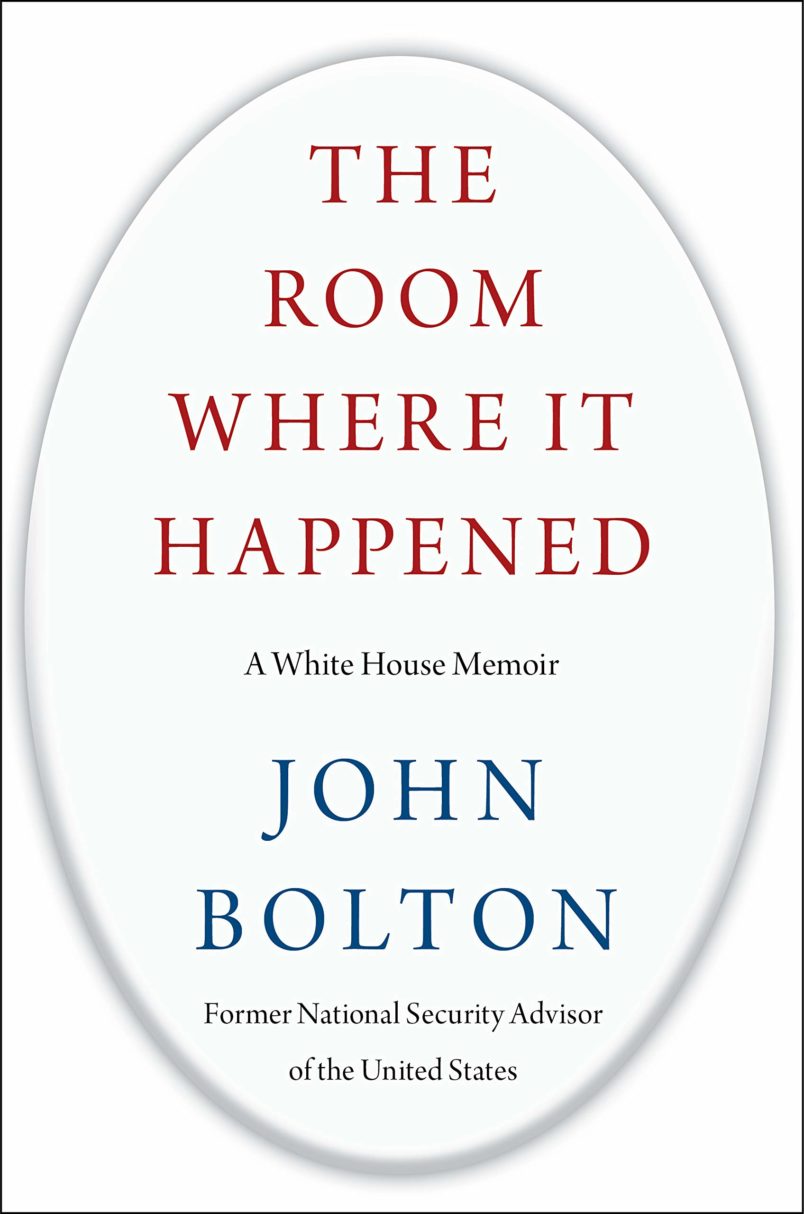 Speaking to reporters outside the White House, President Trump claimed that he hadn't seen Bolton's manuscript that further bolsters his Ukraine quid pro quo.
"I have not seen the manuscript, but I can tell you nothing was ever said to John Bolton," Trump said, before reiterating that he hasn't seen a manuscript nor Bolton's book.
"The 1974 House Judiciary Committee put the British example favored by Mason to use during Nixon's Watergate scandal. "High crimes and misdemeanors," the committee's staff report argued, originally referred to "damage to the state in such forms as misapplication of funds, abuse of official power, neglect of duty, encroachment on Parliament's prerogatives, corruption, and betrayal of trust," allegations that "were not necessarily limited to common law or statutory derelictions or crimes."
The committee approved three articles of impeachment against Nixon on these grounds, charging him with obstructing justice and subverting constitutional government. The full House never voted on impeachment, but the proposed articles helped force the president's resignation two weeks later.

When Madison, Mason, and Randolph reunited in Richmond in June 1788 for Virginia's convention to ratify the Constitution, they continued their debate on the question of impeachable offenses. By then each man had taken a different position on the Constitution. Madison had emerged as its main architect and champion, and Mason as a leading opponent who declared "it would end either in monarchy, or a tyrannical aristocracy." Randolph, meanwhile, had voted against the Constitution in Philadelphia in September 1787, but swung his vote to yes in 1788 after eight other states had ratified it. Their disagreement illuminates the discussion over presidential powers in the modern era.
When Mason argued that "the great powers of Europe, as France and Great Britain," might corrupt the president, Randolph replied that it would be an impeachable offense for the president to violate the Constitution's emoluments clause by taking payments from a foreign power. Randolph was establishing that violations of the Constitution would constitute high crimes and misdemeanors – and so would betraying the U.S. to a foreign government."
This is so funny!Basically Trump brags that he can't be convicted because he is withholding the incriminating evidence!
I just don't have time to keep up with it.  Here is a live blog by TPM.
And for those who insist that there were no witnesses in the Clinton trial, here's a pretty good recap.  Three witnesses were deposed by House managers (Clinton's lawyers were not even allowed to be present) and cherry-picked video excerpts were played and entered into evidence.  The witnesses were Monica Lewinsky, Vernon Jordan, and Sydney Blumenthal – all during the Senate trial.
I did get to see Nadler in action in the late night last night.  Although the Republicans were hoping that none of that would find its way into public light, Nadler made all the headlines this morning for calling certain Republicans liars.  Yes, Justice Roberts admonished him.  But it's all about public framing right now.
And apparently Trump is actually bragging about withholding evidence.
Here are some numbers to call.  You also might want to pressure Collins and the other squishy Republicans facing tough reelections this year.
My son has been ordering these noodles online, but I just discovered today that they are sold locally at the Little Japan market in Henderson Center. These are high quality ramen imported from South Korea and they are very spicy. I mean, I love heat, but these noodles test my limits! The black package is the hotter of the two. But they aren't just spicy, the flavor is delicious – there is a liquid spice packet inside and also some seaweed additive. They cost $3.00 per package, but they're worth it. If you like a real kick with flavor about as good as you can get from a package, give them a try.
"The Senate shall have the sole Power to try all Impeachments."
It is not a jury deliberating afterwards. It tries the case.