You are currently browsing the monthly archive for January 2020.
"I worked with other senators to make sure that we have the right to ask for more documents and witnesses, but there is no need for more evidence to prove something that has already been proven and that does not meet the United States Constitution's high bar for an impeachable offense. The Constitution does not give the Senate the power to remove the president from office and ban him from this year's ballot simply for actions that are inappropriate. The question then is not whether the president did it, but whether the United States Senate or the American people should decide what to do about what he did. I believe that the Constitution provides that the people should make that decision in the presidential election that begins in Iowa on Monday. Our founding documents provide for duly elected presidents who serve with 'the consent of the governed,' not at the pleasure of the United States Congress. Let the people decide."
So at long last the factual denials are over.  Trump did indeed use his power and Congressionally approved aid to an ally at war with a hostile superpower to pressure a the allied government to make a public announcement that his political rival is under investigation for corruption.   Everyone (except Trump and his die hard supporters) accepts this.  Only, using your position to pressure a foreign government to make a Comey-type announcement to assist in your reelection (he didn't really care about the investigation itself – he really just wanted the announcement) is merely "inappropriate."
If the voters do indeed agree with the Republican position, then the bar of ethics and corruption has fallen so low that the Republic is in serious trouble.  I almost hope that this is just reserved for Trump and nobody else – if a Democrat had done anything like this he or she would have been removed from office, and it would have been a bipartisan removal.  And actually, if any other Republican had done it, probably the same.  We have a lower standard with Trump because, "Well, we all know that Trump can be inappropriate."
As the only trial in US history in which witnesses and evidence have been barred comes to a close, I just really hope it ends with his Presidency.  But I think a precedent is being set – unless enough electoral-college electors say differently this fall -in Presidential, Senate, and House elections.
ALL THE WITNESSES: Ok we all agree. This is what happened.
REPUBLICANS: None of you were in the room!
BOLTON: *raises hand* Well I was in the…
REPUBLICANS: Who asked you?! Shut up! You're a liberal pawn!
BOLTON: Um… I'm actually I'm a lifelong Republican and I was literally Trump's national security advi…
REPUBLICANS: Shut your mustache! Somebody bring back the first national security advisor.
FLYNN: *in orange jumpsuit* Hey sorry guys I'm in jail lol.
REPUBLICANS: What? Why?
FLYNN: For lying to the FBI about the Russia investigation.
REPUBLICANS: Well what idiot told you to do that?!
FLYNN: The Pres…
REPUBLICANS: Shut up! No one believes either of you!
KELLY: *raises hand* I believe them. And I was Trump's Chief of sta…
REPUBLICANS: Shut up! Let's talk to the current chief of staff. Who is he?
MULVANEY: *raises hand* It's me. Sort of. Well, I'm the act…
REPUBLICANS: Shit. Never mind.
PARNAS: *raises hand* I was also in the room. In fact, here's a cell phone video of the President saying that…
REPUBLICANS: Wait what?! How in hell did you sneak a cell phone into a meeting with the President?
PARNAS: It was easy I just walked right in and…
REPUBLICANS: Shut up! You're a criminal!
PARNAS: Correct. So I just walked right into…
TRUMP: I don't know him.
PARNAS: And here's 500 pictures of me with the President because we're besties.
REPUBLICANS: Wait… What idiot introduced you to the President??
PARNAS: His personal lawyer.
REPUBLICANS: Cohen??
COHEN: *also in orange jumpsuit* Hey no sorry guys I'm in jail too. Oops.
REPUBLICANS: Why?
COHEN: For campaign finance violations.
REPUBLICANS: Whose campaign?
COHEN: The Pres…
REPUBLICANS: Shut up! Who was the campaign chair??
MANAFORT: *also in orange jumpsuit* Yeah. Me. Also in jail. Heyyyy.
REPUBLICANS: IS EVERYBODY IN JAIL?!?
PARNAS: It was Giuliani.
YOVANOVITCH: Giuliani! That's the guy who had me fired from my job!
REPUBLICANS: Who are you??
YOVANOVITCH: I was the ambassador to Ukraine.
REPUBLICANS: Wait, you had her fired? Do you work for the government??
GIULIANI: Nope. But I figured no one really follows any rules around here so…
REPUBLICANS: Well who is the ambassador to the European Union??
SONDLAND: *raises hand* It's me. I was also in the roo…
REPUBLICANS: F@$&!!!
PUTIN: *rubs his bare chest*
He's already generated massive head-shaking in promoting is theory that "high crimes and misdemeanors" pertains only to a crime committed – a theory which is shared by something like three percent of legal history scholars and contradicting his own statements during the Clinton trial.  But now he's arguing that a President can justify his use of Presidential power and resources to win reelection on the basis that he views his reelection as in the public interest.
Trump lawyer Alan Dershowitz responded with a pretty stunning assertion, saying that "every public official" he knows "believes that his election is in the public interest, and mostly you're right" and that if a lawmaker does something that will help him get election, then that doesn't count as an impeachable offense.

"Your election is in the public interest," Dershowitz said. "And if a President does something which he believes will help him get elected in the public interest, that cannot be the kind of quid pro quo that results in impeachment."
It's not just that he did something that would help him get reelected.  Doing a good job.  It's that he abused his power to try to attack a political opponent, breaking the Impoundment Control Act in the process.
Not a done deal, but apparently there were enough threatened defections such that witnesses will be heard.
But will anyone bother to buy Bolton's book after his testimony?  I wonder if Bolton will offer legal resistance until after his book is released.
Will the Biden's be subpoenaed?  I mean, if he has the stuff, Biden could pull of a Robert Welch moment and all but guarantee the nomination.  If he hides, the Sanders momentum is likely to continue.
Will Bolton actually burn the Democrats?  Did he give the NYT a false lead?  It's possible.
Will they call Adam Schiff?  He seemed willing when he was asked about it.  I think that would be a huge mistake on the Republicans' part.  People are much more likely to watch and listen to him if he's in exchanges with Senators.  So far it's all been kind of boring for the novice who basically waits for the highlights on the news.  People would tune in, and unlike Biden, Schiff is sharp and articulate.
heard about the Navratilova/McEnroe protest at the Australia Cup (the lesser known of the "Grand Slam" events) on the radio on my way to work this morning, and it triggered all sorts of memories. Navratilova was of course the first woman to play a true "power game" with heavy serve and volley game, although even her power was about at the bottom of today's women's game (you don't see the finesse soft-hit consistency games of Chris Evert or Tracy Austin anymore – they wouldn't survive the game today). She defected from then-communist bloc Czechoslovakia and was embraced by right wingers until she revealed her politics to be "liberal." I found deep respect for her when I was a teenager and Billie Jean King was outed by a former lover. It was during this time that Navratilova came out as bisexual, and the timing has always suggested to me that it was in solidarity to King's horrific treatment by the press, tennis establishment, sponsors, etc.
McEnroe was of course infamous as a hot-head and many in the media often called him a "brat" for his very contentious tirades against questionable calls of officials. Some found him entertaining, but many were put off lamenting the fact that more working class players were finding their way into the profession – players who saw tennis as more than "just a game." There were other players known for their tantrums, including Jimmy Connors who was popular with crowds despite. But I noticed a difference between the two even as a teenager. Connors would direct anger at his opponents (one time calling Ivan Lendl a "faggot" because rather than going for winning shots the latter was running Connors all over the court to tire him out) for psychological intimidation. McEnroe never did that. He always punched up – everything directed at authority.
But where I came to really respect McEnroe was when South Africa – then in the throes of Apartheid violence – offered Borg and him an exhibition match in which the winner would receive a million dollars and the loser half a million – a lot of money for both of them at the time as both were of working class origins. To my disappointment as I was by then deep into politics, Borg accepted the invitation. Probably influenced by his then coach Arhur Ashe, McEnroe declined the invitation and made his reasons very clear to the media.
Margaret Court was an incredible player (depicted with a complexity of sentiments in Battle for the Sexes – she had completely fallen apart against Bobby Riggs prior to his loss to King. She is depicted as somewhat anti-feminist in the film, though she is depicted as more of a victim of her belief system than a villain – it's a very complex movie and I strongly recommend it.) Anyway, in more recent years she has expressed some very extreme LGBTQ phobia.
And so this protest staged by Navritalova with alliance from McEnroe just brings back memories of it all and is a real point of light in a lot of darkness right now. The proposal of renaming the Margaret Court Arena the Evonne Goolagong Arena is a great one – the first Wimbledon finals I ever really watched was her match against Chris Evert when she became one of only two mothers to win the championship – I believe that holds today. She had this really graceful two-handed backhand which involved her shoulders and was incredible to watch.
I was expecting better from the Trump team, because if they could deal Biden a blow right now Bernie would be the most likely candidate.  Alas, it's really weak stuff.  It's been a contradiction from the beginning, and the media hasn't bothered to push Trump's people on it.  Finally, a reporter noticed!
From Josh Kovensky live blogging from TPM:
"Bondi said that Hunter Biden joined the board of Burisma after British authorities opened a money laundering investigation into Burisma and froze $23 million in bank accounts linked to its owner.

That is strictly true, but it misses another point: that investigation stalled out because Ukraine prosecutor general Viktor Shokin refused to cooperate with the probe. His office ignored mutual legal assistance requests sent by U.K. law enforcement, and a British court eventually ordered the accounts unfrozen due to lack of evidence.

This, and other examples of Shokin's failure to fight corruption, led to international calls for his removal, spearheaded by, you guessed it, Joe Biden.

Bondi thus raises an example which contradicts the entire basis for the scandal: that Joe Biden advocated for Shokin to be fired to stop an investigation into his son. No. Ukrainian officials were pressured to sack Shokin in part because he failed to cooperate with an investigation into Burisma itself.

Whether or not you think Hunter Biden cashing in on his dad's position is wrong from a moral standpoint is immaterial here; the investigation Bondi cites ended because a key figure in the conspiracy theory Bondi is moving towards pushing — Shokin — refused to cooperate."
In other words, Burisma may have hired Hunter hoping to buy access to Hunter's father, but if that was the goal it failed miserably.
I'm really amazed that CalTrans went forward without a Coastal Commission permit.  If a private party did that we would be talking major fines!
Honestly though, the Eucalyptus is an invasive species from Australia (revenge for the rabbits?) which is eaten by no organism in California yet.  Should anyone require a permit to remove them?
It's got at least two Republicans wavering and the rest of them freaking out.  Mind you, I think Bolton is a sleazebag and I don't trust anything he says until I understand his agenda.  But it has made things a bit more interesting.
I mean, nobody who is intellectually honest and not in extreme denial who watched a significant portion of last week's presentation can come out of it concluding anything other than impeachable guilt, but McConnell has a stranglehold on Republicans, who in future years will be coming up with all kinds of apologies for their votes.  Some key voices have been kind of low if not silent of late.  We all know that the President tried to shake down another country by withholding Congressionally approved aid to his own personal benefit rather than to pursue national foreign policy interests.  He and his cronies did it.  And he will not be removed from office for it.
So the question is – what will voters have to say about it in the fall?
From TPM's impeachment live blog:
Furious Republican senators were calling the White House this morning to tell them how they were blindsided by Bolton's manuscript, according to NYT reporter Maggie Haberman.
The senators also reportedly demanded to know which administration officials knew about Bolton's bombshell account, given that Bolton's lawyer gave the White House a copy of the book on December 30.
Schiff told reporters that he's "pleased" that the senators are "reconsidering" their refusal to allow witnesses.
Per a CNN reporter, Graham added to his other comments that it's "important" to get the manuscript of Bolton's book into the proceedings.
Lindsey Graham: "What we have to do here is evaluate (Bolton) manuscript and see if it's a reason to add to the record," he said, per @byrdinator. Asked if he would support a subpoena to get the manuscript: "I want to know what's in the manuscript, yeah, I think that's important"
329 people are talking about this
Sen. Roy Blunt (R-MO) said that he wouldn't need to hear from Bolton, or any witnesses, unless they'd "change the outcome" of the trial.
It's quite an admission that there is a predetermined outcome at all — Blunt, like the rest of the senators, is, in theory, supposed to be an impartial juror. Though many senators have not acted that way, Blunt is candidly admitting here that potential first-hand evidence of Trump linking Ukraine aid to investigations into his Democratic rivals would not change the outcome of the trial — aka, acquittal at the hands of a Republican majority.
From a Bloomberg reporter:
Roy Blunt says he's unlikely to vote to call Bolton.

"Unless there's a witness who's going to change the outcome, I can't imagine why we'd want to stretch this out for weeks and months. And if we call any witnesses who are subject to privilege, it would take weeks and months."
356 people are talking about this
Bolton's book, titled "The Room Where It Happened: A White House Memoir," will be released on March 17, according to Amazon.
Hmm, wonder what room Bolton's referring to — could it have something to do with the giant oval on the cover?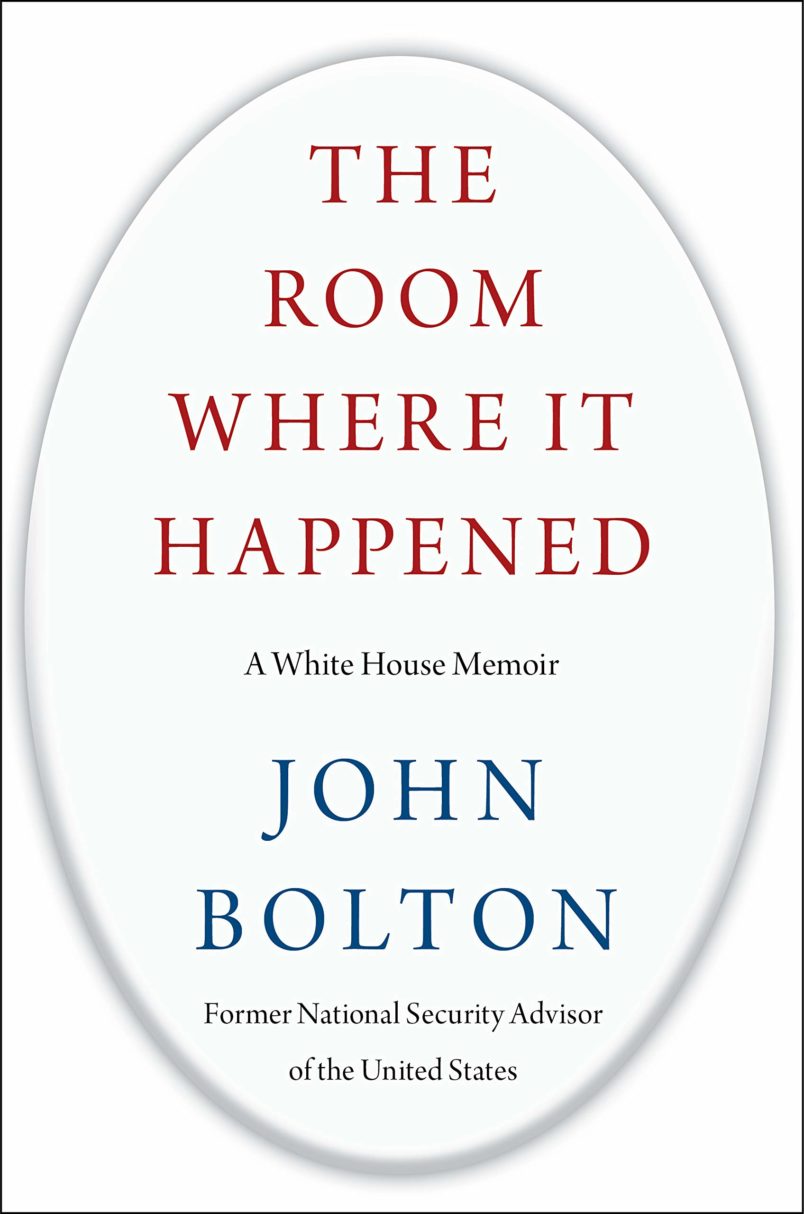 Speaking to reporters outside the White House, President Trump claimed that he hadn't seen Bolton's manuscript that further bolsters his Ukraine quid pro quo.
"I have not seen the manuscript, but I can tell you nothing was ever said to John Bolton," Trump said, before reiterating that he hasn't seen a manuscript nor Bolton's book.
"The 1974 House Judiciary Committee put the British example favored by Mason to use during Nixon's Watergate scandal. "High crimes and misdemeanors," the committee's staff report argued, originally referred to "damage to the state in such forms as misapplication of funds, abuse of official power, neglect of duty, encroachment on Parliament's prerogatives, corruption, and betrayal of trust," allegations that "were not necessarily limited to common law or statutory derelictions or crimes."
The committee approved three articles of impeachment against Nixon on these grounds, charging him with obstructing justice and subverting constitutional government. The full House never voted on impeachment, but the proposed articles helped force the president's resignation two weeks later.

When Madison, Mason, and Randolph reunited in Richmond in June 1788 for Virginia's convention to ratify the Constitution, they continued their debate on the question of impeachable offenses. By then each man had taken a different position on the Constitution. Madison had emerged as its main architect and champion, and Mason as a leading opponent who declared "it would end either in monarchy, or a tyrannical aristocracy." Randolph, meanwhile, had voted against the Constitution in Philadelphia in September 1787, but swung his vote to yes in 1788 after eight other states had ratified it. Their disagreement illuminates the discussion over presidential powers in the modern era.
When Mason argued that "the great powers of Europe, as France and Great Britain," might corrupt the president, Randolph replied that it would be an impeachable offense for the president to violate the Constitution's emoluments clause by taking payments from a foreign power. Randolph was establishing that violations of the Constitution would constitute high crimes and misdemeanors – and so would betraying the U.S. to a foreign government."