You are currently browsing the tag archive for the 'Darryl Cherney' tag.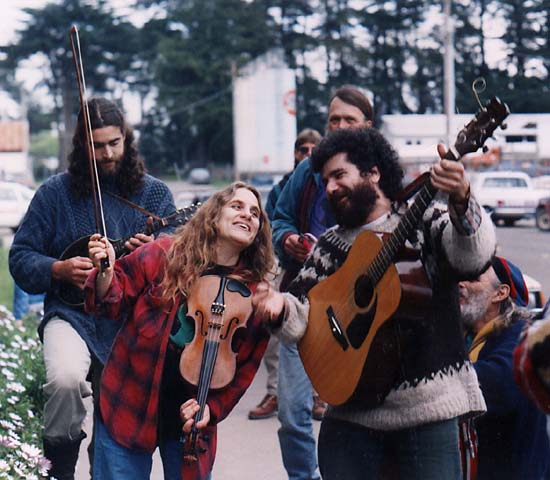 Thanks to Heraldo who posted a tribute. I'll follow up with something later.
Okay, I have a few minutes here. There have been plenty of words spoken and written about Bari, so I think I'll just stick to my brief personal encounters with her. When I first moved here in 1996, literally within weeks I heard Bari on KMUD. She made some disparaging remarks about Bruce Anderson and Bill Roddy which confused me, so I wrote a letter and sent it to the Anderson Valley Advertiser. I had already met Roddy briefly at a benefit dinner at Keith's following his losses to fire, and he seemed like a nice guy so I was curious about Judi's comments. I was aware of her feud with Anderson from years of AVA reading. To shorten the story, I misunderstood her when she said that she couldn't write anything for AVA publication. I'd taken it as a ban on Anderson's part, when what she meant was that she simply couldn't be involved with him anymore because of her own feelings. So my letter to Anderson was to press him to "allow" her rebuttal.
Apparently she discussed me on her following radio show, as I learned when somebody provided a recording several years after her death. But she also managed to get my home telephone number and call me. We had a very cordial discussion in which she wanted to clarify her statement and take me to task on some other aspects of my letter which upset her at the time. I apologized for my misunderstanding of the situation as expressed in my letter and she moved on. We had a 45 minute conversation about north coast politics and she ended by saying, "oh, by the way, welcome."
Other than a brief meeting at the civil disobedience action re the headwaters several months later, I never met her again. After she passed away, I got to know her better because it fell upon Mark Drake and myself to address a number of allegations being made at the AVA and elsewhere about the bombing. The project culminated in two radio shows, one in which I hosted Bruce Anderson and another with Darryl Cherney. I won't go into it all now, but they were two of my liveliest shows to date. But in preparing, I was exposed to videos of her talks and I marveled at her ability to speak for a hour or so without notes with the subject flowing smoothly in an organized, coherent, and articulate fashion – without a moment's break. She was clearly brilliant and passionate, and obviously earned the respect she had throughout the community, even by some of her adversaries.
She wasn't perfect of course. I became aware of some personality quirks and some questionable political decisions, but nothing like what she was being accused of, and nothing worth mentioning here. The danger of sainthood is that it can deprive an individual of her humanity, which was as messy and contradictory as that of the rest of us. And an annoying aspect of human nature is our need to deify our human heroes. It's certainly apparent in the accolades of Martin Luther King, Jr., often by people who hated his guts when he was alive. It's enough for me that she was a human being with enough empathy and compassion to attempt to make the world a better place than it was when she entered it, and did it in a way which touched so many people.
I'm sorry I didn't have the opportunity to get to know her better.
She has her own website, and Wikipedia entry. The photo (Darryl Cherney to her right) is by Alicia Littletree and posted on her website.
Darryl Cherney was kind enough to send me his lyrics for posting. He wants to emphasize that he believes the history reflected in the lyrics is now correct, and would like to hear from anybody who feels otherwise.
No Reggae No Cry new words by Darryl Cherney; to the tune of No Woman No Cry by Bob Marley
I remember when we used to play
At the Fireman's hall in G'ville
Until somebody burned it to the ground
Out of ashes was born the Mateel
The benefits moved to the Octogon
To the vets hall and the grange
But for a world beat show they were too small
To raise more than pocket change
No Reggae no cry, No Reggae no cry
Humboldt hippie, don't shed no tears
No Reggae no cry
So Carol B. went down to French's camp
To put some Reggae on the River
To fund a hall, the Arthur's helped us out
It seemed that Reggae would deliver
With PB's trees we milled some the wood
He'll be happy to remind us
With volunteers we built the Taj Mateel
Our hall-ess days were now behind us
Everything's gonna be alright
Everything's gonna be alright
Everything's gonna be alright
Everything's gonna be alright
No Reggae no cry, No Reggae no cry
Bay area dready, don't shed no tears
No Reggae no Cry
The next few years, the Reggae profits grew
But the pay was not worth self-destruction
And so PB and Carol and Doug Green
Left the hall to form People Productions
And Reggae grew from 1 day, to 2, to 3
As the Ganja kept getting finer
Listen to Jimmy, to Ziggy, Rod and Toots
The price went up with each Headliner
No Reggae no cry, No Reggae no cry
Coordinators and crew, don't shed no tears
No Reggae no cry
Then PB said, we've outgrown French's camp
The venue problems are systemic
And as the talks with the Arthurs fell apart
He quit to represent Tom Dimmick
While the Mateel Board was starting to burn out
Then for two years there was no money
So Taunya Stapp she wrote the Redwood Times
Not everyone thought this was funny
No Reggae no cry, No Reggae no cry
Good people of Piercy don't shed no tears
No Reggae no cry
A war of words was raging in the press
And so they went to mediation
And when it failed, the audit was released
And Dimmick withdrew his location
PB howled, Carol she just cried
While Doug Green went to put his Boots on
A civil war has broke out in this town
Tell me which side are your roots on?
Everything's gonna be alright
Everything's gonna be alright
Everything's gonna be alright
Everything's gonna be alright
No Reggae no cry, No Reggae no cry
Humboldt Nation (Mateel Community Center
People Productions, Chamber of Commerce) Don't shed no tears
No Reggae no cry
On our way home this afternoon I was treated to some nice comments about this blog on KHUM. I'm pretty sure the DJ was Larry. He brought up the blog just before playing Darryl Cherney's new song No Reggae No Cry (which Darryl had just dropped off at the station). The DJ mentioned that he was brought to the blog while reading up on the Reggae on the River site and mentioned that he enjoys some of my non-Reggae related posts as well.
Jana, my wife, looked over and said. "You're famous. I'm going to have to remember to mention to my friends that I sleep with you!"
The lyrics are great by the way. I'm certain the various schism factions will complain about what was left out, but let's try to remember that it's a song and not a news article. Dylan left out plenty about the Ruben "Hurricane" Carter story as well (facts which make his innocence somewhat less certain), but it's a great song nevertheless.
Maybe Darryl can add some stanzas after the court battles.
Hey Darryl, I'd love to post your lyrics for discussion – or a link to them. Couldn't find them on your website. Guess it's a bit early.
They're hollering about it on the radio as I type. You can only park for two hours during weekdays in Garberville, a law that hasn't been enforced ever. What happens is the employees of the businesses all park in the spaces crowding up customers. Finding nearby parking is sometimes impossible when it's raining or when the farmer's market is up. Of late there have been moments when you can't even park on the off streets. It's fine for me, but certainly not for the elderly, and it certainly deters business coming off the highway. It would be nice to be able to make a quick stop at the ATM or for a cup of coffee, and it's next to impossible during much of the day.
Darryl Cherney sees parking tickets as "right wing." I don't know, I see the prima donna attitude of "I got mine, and screw everybody else," as certainly fitting more with the stereotype, and that's certainly the message you're sending if you feel entitled to take up a downtown parking spot for the better part of a day so you can save yourself a 3 minute walk.
Quite frankly, they should have been enforcing the law for the past 5 or 10 years.