You are currently browsing the monthly archive for September 2009.
An old friend sent me this link reminding me that millions of Americans our age were introduced to opera and specifically Wagner through this cartoon.
It is a little disrespectful on a certain level, but then Wagner was a bit of a pre-fascist so a number of people think he deserves it.  A bit, though his views have been oversimplified by both Nazis appropriating him and Nazi opponents too willing to concede the point.  He actually got himself into trouble early in life for his associations with left politics rather than right, but in the view of many historians his later writings have tended to eclipse some of the complexity of the man.  But that's a topic for another post.
I've now tried nearly every Mexican restaurant in the county.  We have some great places, and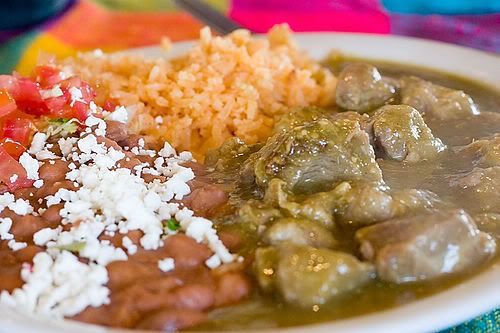 some not quite as great.  But after my third meal I am convinced that La Costa on South Fortuna Blvd., across from Safeway, is the best Mexican restaurant in the county.  La Fiesta Cafe in Sunnybrae makes my favorite chicken mole, but La Costa's is very close.  The chile verde is the best I've had, anywhere.  Someday I want to try their seven seafood soup, which I guess is only available on Sundays.  Their homemade corn tortillas, always fresh, accentuate a great meal.  Don't judge the food by the tacky decor.  No credit cards, so bring cash or a local check.
….
Some of my favorite meals have come from the places which don't look like much from the outside.  By luck I happened onto The Bay Pastry in San Francisco back in my substitute teaching days when I was assigned to a job at Lincoln High School just around the corner.  A tiny little hole-in-the-wall on Taraval about a block and a half a block west of 19th Street on the north side, with a run down sign tucked in between other businesses – easy to miss if you blink while you're driving.  Owned by an elderly Cantonese couple, they have a surprising number of bakery and dim sum items.  Some items are better than others.  While their curried beef rolls are sometimes (but not always) kind of dry and lacking in flavor, all of their dumplings and sumis have been invariably delicious and fresh. The sticky rice wrapped in the big leaves are my favorite item, especially once loaded up with chili oil.  They have good almond cookies and a great sesame seeded soft dough roll with bean paste – not sure what the short name is as I just point out what I want in the glass case.
I don't know if they make everything there, or are one extension of a larger family business where everything is made centrally.  But the best thing about the food is the price.  You can work up a great meal for 5 or 6 people for 40 dollars.  When you buy up a large order, they tend to round down to the nearest 5 dollars, and on two occasions when I had my kids there late in the day they couple gave each kid a free box of noodles.  The couple are very stoic, but they smiled when they saw my Asian kids the first time.


They do have a couple of seats, but it's mostly set up for take out.  The flavors may not be as elaborate as some of the dim sum you'll get downtown or on a main drag in the Richmond District, but it's very good food at a very reasonable price.  They take pride in their craft, and it shows.
….
Another Bay Area hidden Chinese food treasure can be found over in Oakland, right down in Chinatown where many of the business signs are solely made up of Chinese characters.  All of the restaurants look the same from the outside.  Same decor.  Often the same colors of signs.  Same sizes of store fronts.  But some make better food than others.
Shan Dong (yet another restaurant with tacky decor, but great food) is famous for its noodles, particularly the hand-pulled variety.  Their dumplings are also delicious.  But I strongly recommend their braised fish fillet and their onion pancakes.
On the down side, they do cook with MSG.  But the flavor takes me back to some of the Chinese-Californian flavors predating some of the trendy "authentic" cuisines which dominate the affluence culture offerings of San Francisco.
Great friendly service, sometimes from a waitress who will tell you what you "really want to try."
Another downside is trying to navigate the grid of one way streets and cross-walks which send pedestrians corner wise through the middle of the intersections to find the place and then find parking.  What we do is order for take-out and one of us gets out for the food while the other drives around the block.  Yeah, the food is that good.
….
It was a friend up here who recommended Volpi's in Petaluma; an old family Italian restaurant (food served "family style") which began during Prohibition as a speak-easy (they've preserved the hidden bar).  Best pasta dishes north of the Golden Gate Bridge, even better than Marin Joe's.  Great soups.  Family style meals finish off with a nice touch of great coffee and a nice spumoni.  Stick to their traditional dishes.  They've got a chef putting out some modernish dishes, but those flavors can be gotten anywhere.  Great selection of affordable wines too. It's on Washington on the edge of downtown Petaluma. After a great meal, walk down to Copperfield's, one of my favorite bookstores outside of SF or Berkeley.
….
One day a few years back Gary of The Cuttings was cutting my hair as I told him about a
planned trip to Fairfield for some depositions.  He urged me not to miss the opportunity for the best burger I'd ever eat at Daves Giant Hamburger.  You'll find it on Texas Ave, just after the road bends upon having left the downtown area.  It's on the left and looks like just about any drive-in type burger joint.  I don't know if it's the best burger I've had, but it's certainly in the top 5.
The menu is simple.  You can order a hamburger, a cheeseburger, a bowl of chili, or a chili-burger.   No french fries.  No sides.  He's got bags of chips if you really need them.  He sells some pies for dessert, but I've never tried them.  He's got some soft drinks.
He's a cantankerous old libertarian and if you're unlucky you'll be there after he's been closed by the IRS over a tax dispute.  Usually it's staffed by perky teenage girls, but when he's there you may be treated to his lightly sarcastic humor.  Don't be offended.  My first time in I looked at the menu and said, "I'll have a burger."  His response – a wry smile and "no kidding."
Great quality beef, and there's something about the way he grills his onions.  The lack of french fries means you can spend two hours at the gym to make up for the meal instead of three.
….
For an excellent burrito try El Sombrero on Center Street in Healdsburg – right across the street from the police station just off the park square.  It's an order at the counter place, and they offer the standard fare but also excellent ceviche, menudo, and Mexican style shrimp cocktail.  My kids love the place.  They offer a large assortment of meats for their burritos, including some very good beef tongue.  Parking's always easy and it's a perfect stop on the way to or from the Bay Area.
….
Lastly, this last summer I discovered Piaci Pizza in Fort Bragg, just west of the main drag on Redwood Ave.  Gourmet thin crusted pizza, priced a little higher than your standard fare, but the taste is distinctive.  Try their pesto!  They also have a huge selection of beers on tap.  It's a small place, so off hours is best if you're in any kind of hurry.  But you know you're in for a good meal the minute you walk in the door and smell the food.  I haven't tried anything but the pizza, but what I've had was top rate.
….
None of the photos is actually from the restaurants.  I got them from Photobucket, and they look closest to my memory of the fare I describe. Except for the dim sum. The food looks different, but I thought it was a cool photo. Oh, and Dave's giant burger doesn't have red onions.
Kushboldt posts some old clippings with statements from officials seeing the light at the end of the tunnel for marijuana growing on the north coast.
Heraldo brought my attention to the new blog, as well as a link to a post about the old Rolling Stone article about Dirk Dickenson's death.
This evening I went to the Redway Post Office to collect my mail.  I've been unable to open the door a couple of times.  According to a sign, still up on the door as of tonight, some idiots have been vandalizing the equipment or stuffing items in the lock mechanism, messing it up for everyone.  Tonight the key pad is gone.  I don't know if it was removed by postal workers.  If so, I hope it was for repairs.  I don't know if it was removed by chronologically adult anger-challenged members of the community.  What I do know is that I cannot get my mail.  What I also know is that those of us who work regular hours will have difficulty getting our mail on a regular basis.
I have to ask, why does Garberville have street delivery and Redway not?  That would seem to solve everyone's problem, and the post office could make money on box rentals.  Of course, they might have to be a little more consumer oriented in their decision making.
More arrests last night.
ACLU statement on the events.
Addendum: On Friday night the police raided the University of Pittsburgh dormitories, gassing some of the students in the process.  According to this blogger, most of these students had nothing to do with the demonstrations.  Worthy of note is the quote from the officer, "this is just like if the government came in and declared martial law… but it's not."
Some of those students have now undergone what movement people have often referred to as "a radicalizing experience."
There's a video through the link.  Kind of creepy when officers come into the lobby and pluck out a particular student they were after.
Second addendum: Woman tasered on the ground.  I have no idea what happened before, but I do believe that the taser should be reserved for self-defense, and not compliance.
Here's a youtube playlist with some remarkable footage of the campus invasion.  The kids had their cell phones and there's lots of footage to be found on youtube.
<object width="480″ height="385″><param name="movie" value="http://www.youtube.com/p/822B9C3DA5CD1A83&hl=en&fs=1″></param><param name="allowFullScreen" value="true"></param><param name="allowscriptaccess" value="always"></param><embed src="http://www.youtube.com/p/822B9C3DA5CD1A83&hl=en&fs=1&#8243; type="application/x-shockwave-flash" width="480″ height="385″ allowscriptaccess="always" allowfullscreen="true"></embed></object>
Third addendum: It's not working.  I'm leaving the code there until I can figure out how to make it work, but here's the permalink.
Rachel Maddow doesn't try to account for the stupidity of the employees caught on camera.  But she does put some things into context.
Addendum: How ACORN helped it's Enemies, by Clarence Page.
Glenn Beck, having said that Obama has a "deep seated hatred for white culture" accuses Katie Couric of trying to trap him.  All she asked was for him to define his terms.  He refused.  About three minutes of squirming, and he wants to avoid the soundbites.  Did you know that George Bush has an African American grandmother?
And you know, what's funny is that Couric is really a softball pitcher.  That's why the right wingers are willing to be interviewed by her.  Yet, they keep tripping themselves up.  Maybe Couric has insidious mind control powers, because it's definitely not her tough questioning.  Hell, it's not even her question!
A Florida judge took on the role of a high school English teacher grading a rush job term paper, slamming what was obviously a rushed brief complete with red marks.  I'm surprised there isn't a red frowny face at the top.
It's a sloppy brief, obviously a rush job probably done late at night.  But as amusing as the story is, I think the judge is acting over the top, unless maybe briefs like this are a pattern with this attorney.  Some of the corrections are even debatable as there are plenty of attorneys who don't capitalize "plaintiff" or "defendant."  Many writers make the mistake of failing to put the quotation mark on the outside of the sentence ending punctuation.  And while the typos are numerous, annoying, and distracting, I can in fact make sense of the motion.  If this is a one-time thing, I think the judge is out of line.  I've had judges grumpy with me on occasion over the years; because I filed the wrong form, or because the case wasn't moving along fast enough.  I've seen judges yell at attorneys because they were acting like four-year-olds bickering.  Sometimes the tone goes a little dark when it appears that the attorney has done nothing between case management conferences, and tries to substitute the work he or she should have done with a lot of time wasting words at the conference itself.  I've seen attorneys sanctioned and fined.  I've never seen anything like this.
But than, maybe i just don't want to     throw stones.  Karmas a "bitch".
Max Baucus has delayed the discussion and votes on the public option amendments until next week, so the expected fireworks will have to wait.  There is a bunch of news out today, including compilations of poll results which show that support for the public option has increased since August, and that it's popular in most Blue Dog districts – results which have shifted expectations so that Blue Dogs have decided that opposition to the public option isn't necessarily their highest priority.  Kind of like Obama's stance in reverse.  Everything's in flux, and nobody facing a rough reelection bid wants to stick his/her neck out.  Meanwhile, for once the progressives sense blood and they've been relentless all week.  The polls also show that the Republicans remain extremely unpopular, though the Democrats also aren't coming across well, with only Obama remaining above the 50 percent threshhold in national approval.  Later tonight I'll post links to all of this, but right now I'm signing off with an amusing exchange this morning between Senators Kyl and Stabenow:
Sen. Debbie Stabenow (D-MI) argued that insurers must be required to cover basic maternity care. (In several states there are no such requirements.)

"I don't need maternity care," Kyl said. "So requiring that on my insurance policy is something that I don't need and will make the policy more expensive."

Stabenow interrupted: "I think your mom probably did."
It's already on video.
Oh, and it looks like the interim placement of Paul Kirk into Ted Kennedy's seat is final, as a judge rejected the GOP court challenge.  I doubt an appellate court will issue an injunction before this afternoon when Kirk is scheduled to be sworn in.  This means that Democrats do have 60 votes.  The question is whether the Lieberman/Nelson types will join the Republicans to filibuster.
Addendum: If you're a woman and you wake up with your breast bleeding and your shirt's saturated in blood, don't be wasting the ER doctor's time.  Blue Shield says it's not an emergency.
My "empty" light has been on for a few of days, and I kept forgetting to stop and fill up, after a couple of trips out to Beginnings.  I think it comes on when I have two gallons left, but you're not supposed to get to the bottom where all the junk settled at the bottom of your tank gets drawn into the pipes, at least that's what my mother always told me.  So last night on my way home I intended to stop into the Redway Shell station and every single pump was taken with a couple of cars waiting.
No problem.  I'd never seen that before in Redway, so I figured I'd wait until this morning.  No go.  Every single pump was still taken, with a couple of cars waiting.
But when I got to Garberville, there were no cars in the Chevron station and only one in the Shell station.  I'd expect those stations to be busier than Redway, given the proximity of the freeway and all.  The price was the same, 345 9/10 (if any station owner ever decides to ditch the 9/10 of a cent crap, I'll give him/her all of my business on principle!).  But for some reason there's an immense demand for the Redway gas, while the Garberville stations languish.
Somebody told me that Mario Andretti owns the Redway station.  Maybe that's it.  Looks like a slow day for news.  Other than the Trinidate Museum story, all of the front page articles at the Times Standard site are crime stories.  Is a Cutten burglary really front page news?