You are currently browsing the daily archive for May 6, 2009.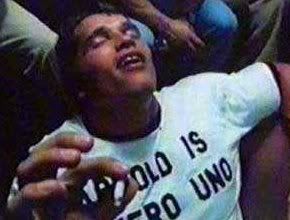 He says it's time to have a discussion about whether marijuana should be legalized for recreational purposes.
I didn't realize the Board of Equalization had analyzed the economic impact.
The Board of Equalization analysis predicts that legalization would drop the street value of marijuana by 50 percent and increase consumption by 40 percent.
So which will we have first?  Gay marriage or legal marijuana?  As a Californian I'm embarrassed that New Hampshire might beat us to the former.
Addendum: Arnold isn't the only Republican talking about pot.
I love Stewart Kirby's line in this week's Independent review of the Wolverine movie (which looks so bad that it's commercial value will probably be limited to the enthusiasm of the geeks who have waited through three movies for their beloved Gambit character).
"I'm the best there is at what I do," Wolverine says.  It's a debatable if enigmatic point.  Some lay claim it's Freddy Krueger, hands down.  I say Edward Scissorhands.
Looks like a movie I probably won't see until it's on DVD and I'm in the video store looking for something mindless and it's left on the shelf along with an old copy of Mosquito Coast – the video cover you always look at and wonder why you never heard of it if Harrison Ford was in it.
….
The other geek movie was discussed on NPR this morning, specifically over the marketing slogan, "not your father's Star Trek."  I suspect what this means is "we won't burden you with the wonder of the original series which was based on the 'final frontier' developments in real life combined with the social optimism of the time, and instead we'll go all Matrix on you and dazzle you with CGI and one-liners because we know that actually thinking about what you're watching isn't high on your agenda."
But that's too long for a movie poster.
I've written that I haven't been entirely sanguine about the changes in San Francisco over the past decade or so.  But this looks like a place I would have frequented had it been there when I was in law school, at least as often as I could have afforded.  Of course it's said that the bohemian urban lifestyle is the first stage of gentrification.