You are currently browsing the daily archive for February 7, 2009.
Humboldt Turtle has been posting here and elsewhere for awhile.  I didn't realize there was an associated blog.  Enjoy Humboldtia.
And here is an advice-column blog entitled "Deal with It" run by Clutter-King.  The language isn't for the weak of heart, and having it up on the screen at the work place may possibly constitute "hostile work environment" harassment to certain ways of thinking.
Somebody told Jana today that he had forwarded a new blog link for me to include.  I don't know if it's one of these, but if you're the blogger and it's not I can't find the email.  Please send me another at ericvkirk@gmail.com.  I also need to know if either of these bloggers is Sohum based.
For a larger and clearer image.
Addendum: It does look like a watered down stimulus package is in the works.  The fringe right is already whining about the Republican "turncoats."  I just want to know how much of the compromise comes at the expense of federal aid to education.  Bail out the banks, but not the schools, even though the multiplier for a dollar is 5 times as effective as a dollar for the banks, who have only barely opened up more credit as a result of the hundreds of billions already handed to them without strings or oversight.
Second addendum:  Here is the list of what the three – count em, three – Republicans have demanded in order to circumvent a filibuster.
Billion dollar cuts

$40 billion State Fiscal Stabilization

$16 billion School Construction

$7.5 billion of State Incentive Grants

$5.8 billion Health Prevention Activity

$4.5 billion GSA

$3.5 billion Higher Ed Construction (Eliminated)

$3.5 billion Federal Bldgs Greening

$2.25 Neighborhood Stabilization (Eliminate)

$2 billion broadband

$2 billion HIT Grants

$1.25 billion project based rental

$1 billion Head Start/Early Start

$1.2 billion in Retrofiting Project 8 Housing

$1 billion Energy Loan Guarantees

Million dollar cuts

$100 million FSA modernization

$50 million CSERES Research

$65 million Watershed Rehab

$30 million SD Salaries

$100 Distance Learning

$98 million School Nutrition

$50 million aquaculture

$100 million NIST

$100 million NOAA

$100 million Law Enforcement Wireless

$50 million Detention Trustee

$25 million Marshalls Construction

$100 million FBI Construction

$300 million Federal Prisons

$300 million BYRNE Formula

$140 million BYRNE Competitive

$10 million State and Local Law Enforcement

$50 million NASA

$50 million Aeronautics

$50 million Exploration

$50 million Cross Agency Support

$200 million NSF

$100 million Science

$300 million Fed Hybrid Vehicles

$50 million from DHS

$200 million TSA

$122 million for Coast Guard Cutters, modifies use

$25 million Fish and Wildlife

$55 million Historic Preservation

$20 million working capital fund

$200 million Superfund

$165 million Forest Svc Capital Improvement

$90 million State & Private Wildlife Fire Management

$75 million Smithsonian

$600 million Title I (NCLB)
The United Conference of Mayors has a list of the cities which would receive funds through the Main Street Economic Recovery portion of the stimulus.  The list also specifies the proposed projects for each city.  Santa Rosa would get some funds.  Redding too.  I couldn't find any North Coast cities on the list.
Second addendum: Pault Krugman – What the Centrists hath Wrought.
Some choice passages:
According to the CBO's estimates, we're facing an output shortfall of almost 14% of GDP over the next two years, or around $2 trillion. Others, such as Goldman Sachs, are even more pessimistic. So the original $800 billion plan was too small, especially because a substantial share consisted of tax cuts that probably would have added little to demand. The plan should have been at least 50% larger.

….


The short answer: to appease the centrists, a plan that was already too small and too focused on ineffective tax cuts has been made significantly smaller, and even more focused on tax cuts.

….

The real question now is whether Obama will be able to come back for more once it's clear that the plan is way inadequate. My guess is no. This is really, really bad.
Actually, that accounts for about half of the very short but very poignant post.  He estimates that the compromise will cost Americans 600,000 jobs over two years.
Third addendum: Kos on business groups for the stimulus.

What's crazy isn't that business groups are supporting a stimulus that would pump hundreds of billions into infrastructure projects which, ultimately, would find their way into the pockets of, yup, business. That's kind of the point of a stimulus proposal.

What's crazy is that these are probably the two most wingnutty organizations in the entire country, and they've got some serious stiff competition. That's why Specter is waving them as a magic shield as he announced support for a program unpopular with his party's base (and he's not out of the woods in regards to a serious primary challenge in 2010).
One of the major backers of the New Deal was Henry Ford, who realized that durable goods couldn't be mass produced and sold to a country without a middle class.
My daughter is ill, and she'll probably have me up much of the night as Jana is out of the house preparing (hopefully sleeping by now) for a test tomorrow.  Nothing on TV, and I'm too tired to read.  Might as well blog.
….
Anybody who has spent much time in the Ukiah court house knows about Schat's Bakery across the street on Perkins.  They're known for their delicious sandwiches named after various legalese.  They're a favorite of court staff and attorneys and they're always packed during the lunch hour with many conversations in hushed whispers particularly between attorney and client.  What you may not know about is the rampant law breaking between the court house and Schat's.  Literally between them.  Staff, law enforcement officers, attorneys, and judges alike all routinely jaywalk from the southern exit to the entrance of the beloved lunch spot.  The food is that good!
The photo comes from the Schat's website.
….
I'm one among an apparently extreme minority who doesn't see any reason to transpose excellent literature onto film, forever ruining the wonder of the novel for generations afterward.  It's not a new phenomenon.  How many of us actually read the Wizard of Oz before seeing the movie?  How many bothered reading it at all?  About a month from now probably the greatest graphic novel in history is going to be ruined for all generations here on out.  Maybe it'll be well done, as was the Lord of the Rings (actually, the first movie was well done and true to the novel, but by the time they got to the Return of the King they'd pretty much abandoned Tolkien's vision for epic battle scenes), but it's not the point.  There are details and beauty which will never be enjoyed as they should be.  The stories are forever lost in terms of their full unadulterated impact except for those precious few whose parents protect them from the literary crimes long enough for a virgin reading.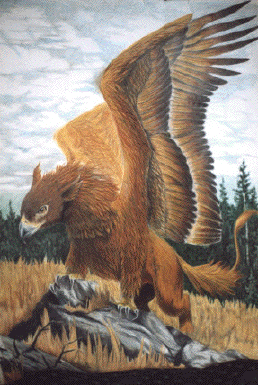 The Chronicles of Narnia certainly weren't in Tolkien class, and many readers don't realize that it's Christian propaganda written by one of the religion's most brilliant apologists.  The Lion, the Witch, and the Wardrobe, the best of the series, was put to film a couple of years ago.  The previews didn't sweep me off my feet as the CGIs were a bit heavy-handed.  I did get to see the last half hour or so in my hotel room last night.  It's true to the story as much as I can remember it, and it's fine.  I believe it's one of only two stories which portray gryphons as forces for good rather than evil (the other being the psychedelic Golden Voyage of Sinbad of the 1970s).  Always thought gryphons were cool.  But what came across in the film which may actually have been an improvement on the novel was the portrayal of the evil witch queen.  Her evil was not overstated, at least not in the final sequence.  She doesn't show the emotion of a typical female villain (again, I don't remember how she was portrayed in the novel).  She beautifully and calmly enters the final battle, methodically downing soldiers, centaurs,… and my beloved gryphons, before she is brought down by Aslan the Christ/Lion.  Even at the last moment she stares Aslan down before he kills her.  You're not supposed to like her or anything, just respect her.  It's a remarkable moment in cinema.
….
For those of you who feel that the latter generations are too self-involved for politics and community action, learn what Fred Phelps learned today.  The kids will surprise you.
….
Heraldo reports that the comment period for the Richardson Grove upgrade has been extended.
….
Being out of the news loop for a couple of days I had to go to Mark's blog to learn that the Samoa Pulp Mill has a buyer!  Good news, hopefully.
….
Well, it looks like the stimulus package is all but a done deal (the Senate version), and despite getting creamed in the last two elections, they're still running the show.  The watered down bill has less spending (presumably the education funds were gutted, that was the big objection to Republicans), more useless tax cuts, and well below the trillion which many economists believe to be the minimum amount needed to have any appreciable impact on filling in demand enough to encourage further investment in the production of goods and services.  Republicans may be amateur economists, but they have the power because Democrats are fundamentally wimps – bottom line.  This as 600 thousand jobs were lost in January and unemployment is higher than its been in 30 years.  Hopefully the House Democrats will hold out for the education funds if Pelosi doesn't undermine them the way she did in the FISA cave-in.
….
Rosey the Riveter revived?  I was told by a dinner guest tonight that female employees now outnumber male employees for the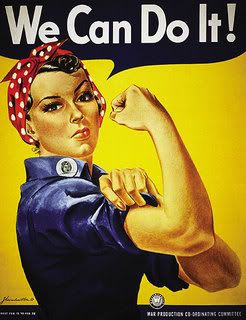 first time ever.  I'm wondering if that includes World War II.  Basically, the analysis is that women tend to be in the direct services industries which are faring better than manufacturing, construction, etc.  But for several years now women have outnumbered men in college enrollment, for a number of reasons.  Given that there's been a certain popularity of men whining about the fact that boys aren't allowed to be the boys that they were, and how unreasonable it is to insist that boys sit still in classrooms and study, and the increasing association with anything intellectual with something other than masculinity, I wonder if the realities have caught up with men.  I guess it's all about priorities.  I can tell you that if I was in high school and told that there were co-ed classes where the women outnumbered the men two to one, I'd be studying my ass off.  So to speak.
….
Would you pay your mother's credit card debt after she died to "help her out?"  From the Jutzpa Department at TPM, the dialogue is precious – it's Mom's fault the banks are in crisis.
Paul Kelleher: Yes, I'm calling to inform you that my mom died on the 24th of January.

Bank of America Estates representative: I'm sorry. Oh, it looks like she never even missed a payment. That's too bad. Well, how are you planning to take care of her balance?

PK: I'm not going to. She has no estate to speak of, but you should feel free to just go through the standard probate procedure. I'm certainly not legally obligated to pay for her.

BOA: You mean you're not going to help her out?

PK: I wouldn't be helping her out — she's dead. I'd be helping you out.

BOA: Oh, that's really not the way to look at it. I know that if it were my mother, I'd pay it. That's why we're in the banking crisis we're in: banks having to write off defaulted loans.
Of course, as we learned this week, Bank of America is the paragon of virtue.  They're in a great position to moralize about community responsibility.
Maybe we ought to start a charitable fund for banks down on their luck?  Oh wait, we did that, and they still aren't lending money.
….
Fred has the link to the list of Prop 8 donors – supporters and opposers who donated $100 or more.  199 Humboldt County.  There are some Sohum people on the list.  Nancy Noll made a couple of donations against.  One Dr. Dennis Harper of Whitethorn made a couple in support of the initiative.  There are a few names from Sohum on each side, but the only person I know is Nancy, unless I missed somebody.
….
Okay, she's been down for awhile.  I think I'll try to get some sleep.