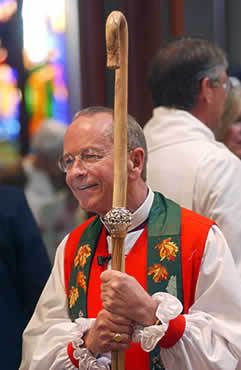 Obama has invited Bishop Gene Robinson to give the opening inaugural invocation.  It's already stirring up a new pot.
Bishop Robinson is of course the first openly gay priest to be ordained a Bishop, and elaborated upon in the links above it has led to a schism in the Episcopal Church.
Now what I'd like to see come out of it is a public exchange between Robinson and Warren.  Maybe a college debate tour.
Addendum: On homosexuality, RNC chair candidate Ken Blackwell assured everybody that he could restrain his homosexual urges if he had them, but of course wants you to know that he doesn't have them.