You are currently browsing the daily archive for August 29, 2008.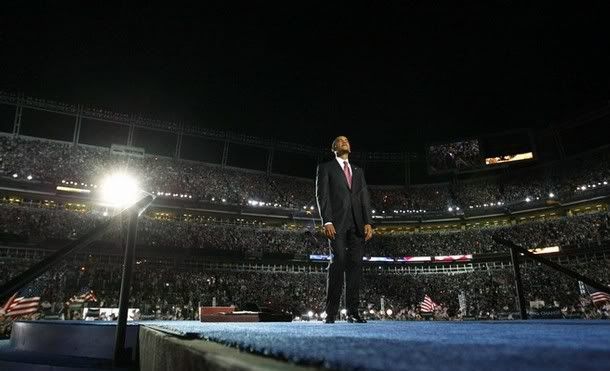 More than the opening ceremony for the Olympics. That's 12 million more than the previous record for a convention speech set two nights earlier by Hillary Clinton. Obama was in the living rooms of a quarter of the nation's households.
Now the question is whether Palin's speech will outdo McCain's next week.
Addendum: Obama's Gallup Tracking Poll bounce – does not factor in last night. He should break 50 in tomorrow's numbers. The question is whether Palin's selection will pull it back down on Sunday.
Second addendum: Paul Begala asks "Is McCain out of his mind?"
Third addendum: "Sarah Palin was my mayor."
Fourth addendum: Apparently Palin altered her Wikipedia entry with haste.
Photo comes from this Kos post.
Fifth addendum: Well, she's getting her vetting. Apparently she was against McCain before she was for him.
And like her running mate, she's fibbing about her earmarks spending stand.


Certainly "out of the box" if true. CNN is reporting that it won't be Pawlenty. Romney appears to be out as well, which shouldn't be a surprise as he basically called McCain a liar during the campaign.
Wonkette had written Palin off earlier in the year due to the governor's pregnancy. The photo comes from Wonkette.
I should also say that none of the other networks is reporting anything other than speculation due to the plain from Alaska to Dayton. But it seems a good bet.
Addendum: Well, it's confirmed. And I have to say that she's McCain's best choice. It's a double play for both the Republican base and PUMA types. It does kind of take the experience thing off the table, but Obama's probably going to beat that rap anyway. Plus, she's in an organization called "Feminists for Life," which means you have a conservative woman who's not afraid of the "F" word who can possibly reframe the whole debate on abortion – especially since she recently gave birth to a down syndrome child, a condition which has been cited as a rationale for abortion. The risk is that it brings abortion to the forefront and could galvanize some of the female Clinton voters for Obama.
She's younger than Obama and the immediate effect is to boot Obama's speech out of the news coverage and bring some excitement to the convention. If Pawlenty had been chosen the press would have been yawning. If Romney had been chosen the press would have focused on the animosity.
The concern is that Biden will blow her out of the water in foreign policy in the debates, but already that works in her favor. All she has to do is hold her own and she wins the push due to the "expectations game." And since the debates are tightly controlled in format, all she has to do is prepare well with canned answers and she's "beaten expectations."
A smart move. Could win it for McCain. Maybe.
Second Addendum: Apparently she does have a little baggage. About two dozen telephone calls were made from her office attempting to get her ex-brother-in-law fired as a state trooper. She claims she knew nothing about them. There is an investigation as to whether she fired Alaska's Public Safety Commissioner because he wouldn't fire the trooper. Her sister and the ex are in a serious custody fight.
I would assume the McCain people feel that one can be wrapped up tight.
Third addendum: I should mention that I think the selection is a positive moment for women in politics. The Republicans just broke a barrier. And it's a gutsy move by McCain (although he had to do something) which moves the Republican Party a few inches into the 20th Century. It could create a minor backlash as there are still some conservatives who believe a woman should not be working, certainly not as VP, while she has five children. I'm glad McCain bucked that element.
Fourth addendum: Not all conservatives are happy. From the National Review:

Can anyone say with a straight face that Palin would have gotten picked if she were a man?
They asked it. Not me.
Fifth addendum: Romney and Pawlenty aren't happy.
Sixth addendum: Somebody just pointed out that come November someone from either Hawaii or Alaska will be elected to the White House. That's another first.
And expect the following clip to get a lot of play, as well as McCain's joke about why Chelsea Clinton is so ugly (the answer being that Janet Reno is the father).
Obama's response to the pick:

"We send our congratulations to Governor Sarah Palin and her family on her designation as the republican nominee for Vice President. It is yet another encouraging sign that old barriers are falling in our politics. While we obviously have differences over how best to lead this country forward Governor Palin is an admirable person and will add a compelling new voice to this campaign."
There's some chatter on CNN that this was a last minute decision. Apparently Palin's staff wasn't even notified until late last night. Pawlenty may have been the pick until Obama's exceptional speech of last night which might have stolen the narrative going into the convention. Basically, McCain chose to roll the dice. Pawlenty was apparently expecting the nomination.
Here's a local news story on Troopergate. It looks like the buzz-cut aide was caught in a lie.
Well, it appears Obama did what he had to do.
Pat Buchanan on the speech: "This is the finest convention speech, I've ever heard!….. It wasn't a liberal speech, it was a unifying speech."
More later.
By the way, thank you to anyone who called it to my show. Some great calls tonight.
Addendum: Remarkable comments from Pat Buchanan, which blow me away as much as the speech itself. One thing about Buchanan, who has great grudging respect for his political opponents (I almost thought he was rooting for Hillary Clinton this season), he acknowledges their moments with grace. His militancy has tempered over the years.
From David Gergen:

If Obama becomes president, I think we will look back and say that this was one of the turning points. As a political speech it was a masterpiece.
Second addendum: Dissecting that "bounce" in the Gallup Tracking Poll, which is based on a three day average, these are the daily figures. So despite what the media was reporting yesterday, the bounce began from the first moment of the convention.
August 20: O 45 M 43
August 21: O 45 M 44
August 22: O 45 M 45
August 23: O 45 M 46
August 24: O 45 M 44
August 25: O 42 M 48
August 26: O 48 M 40 (post-Michelle)
August 27: O 54 M 38 (post-Hillary)
This doesn't include the impact of tonight, nor even last night. I suspect the dip over the weekend reflects the disappointment of Clinton supporters with the Biden choice. But if you googled the question as late as this morning, you would have found a slew of stories about the failure of Obama to bounce from the convention. Is the MSM biased, or just stupid?
Third addendum: Alleged liberal Fox News commentator Juan Williams, who has been riding the Democrats all week, rips Obama's speech. Then in a twist, conservative Bill Kristol praises it. Ironies abound.
Fourth addendum: Obama's ground game is in high gear.

Barack Obama's campaign hasn't advertised this a great deal this week, but the campaign's "Action Wire" has been waging large-scale campaigns against critics. That includes tens of thousands of e-mails to television stations running Harold Simmons' Bill Ayers ad, and to their advertisers — including a

list

of major automobile and telecommunications companies.

And tonight, the campaign launched a more specific campaign: an effort to disrupt the appearance by a writer for National Review, Stanley Kurtz, on a Chicago radio program. Kurtz has been writing about Obama's relationship with Bill Ayers, and has suggested that papers housed at the University of Illinois at Chicago would reveal new details of that relationship.

The campaign e-mailed Chicago supporters who had signed up for the Obama Action Wire with detailed instructions including the station's telephone number and the show's extension, as well as a research file on Kurtz, which seems to prove that he's a conservative, which isn't in dispute. The file cites a couple of his more controversial pieces, notably his much-maligned claim that same-sex unions have undermined marriage in Scandinavia.

"Tell WGN that by providing Kurtz with airtime, they are legitimizing baseless attacks from a smear-merchant and lowering the standards of political discourse," says the email, which picks up a form of pressure on the press pioneered by conservative talk radio hosts and activists in the 1990s, and since adopted by Media Matters and other liberal groups.
I don't know what the hell Obama's been doing for the past month, but it appears he's found a way to rumble and play lofty at the same time – a groove of brilliance reflected in tonight's speech despite the centrist overtures I found annoying.