You are currently browsing the daily archive for January 8, 2008.
My law partner just got his. I guess I'm going to have to pick up the pace with regard to my analysis of the propositions. I'll try to have them up in the next day or so.
Sending an ex-president, who should be above it all, on the attack is basically squandering Clinton's main asset – the (former) popularity of her husband. Bill Clinton slammed Obama and the media in an uncharacteristically caustic speech last night. As a certain persistent poster has pointed out about 30 times in the past couple of days, I greatly underestimated Obama's political abilities when I predicted Clinton would be the next president. Not only that, but I've apparently overestimated Clinton's. I said that the Clinton campaign was made up of professionals who would not lose their cool. Well, they're losing their cool.
It's not that Clinton's accusations are misleading. They are.
He took out of context Obama's 2004 statement that he did not differ with Bush on the war. The statement was about Bush's handling of the war, not his initiation of it (which he opposed). Yes, that comment is subject to fair criticism as well, knowing what we know of Bremer's sudden dissolving of the Iraqi military, etc. – as is Barama's 2004 comment that while he opposed the war he wasn't sure how he would have voted on the war power resolution. But Clinton's omission of context seems clearly intended to create the impression that Obama supported the invasion itself. He didn't.
Clinton also slammed the media for not covering Obama's early campaign flier calling Clinton "the senator from Punjab" in reference to financial support for Clinton from companies who have been outsourcing to India. But Obama withdrew the flier and apologized for it. And the media covered it in detail.
It's not that the Clinton campaign is going negative. It is. But that's the nature of the beast and while voters moan about negative campaigning, they don't react against it in the polls. More often they reward it.
The problem is that it reveals the Clinton campaign as desperate. That's not what they needed to project. They should have congratulated Obama on his wins and said "see you on the campaign trail." They're looking like the proverbial deer glaring into the headlights.
And they're out of money. Losing union support. Abandoned by former allies (Update: or maybe not).
Meanwhile, Obama took the high road. I don't have the exact quote, but he came across quite compassionately (who knows if he's sincere, but he seems to be) in suggesting that he understands their frustration and it is what it is. As much as I hate the term, that's by any reasonable definition "presidential."
Clinton's last bid may be a "Hail Mary" try for the Hispanic vote on Super Tuesday. I think it'll fall short, as well as any Michigan or Florida strategy. There is one other option being discussed, but I'm going to have to cover it in an addendum later.
Meanwhile you can hear my less than articulate endorsement of John Edwards on the KMUD news tonight.
Photo comes from NY Daily News.
Addendum: Heraldo notes that Chris Kerrigan will head home from his stint with the Edwards campaign after today's primary. Heraldo also discusses Edwards' reaction to Clinton's Pat Schroeder moment.
From the Arcata Eye:
Word reached the Arcata Eye late Sunday of the passage of Jim Fahey, appellate attorney, inveterate Bridge player and Beatles fan. Fahey's iconoclastic views on matters legal graced the pages of the Eye and Anderson Valley Advertiser. Friends and relatives are collecting remembrances; more information will be available in next week's edition.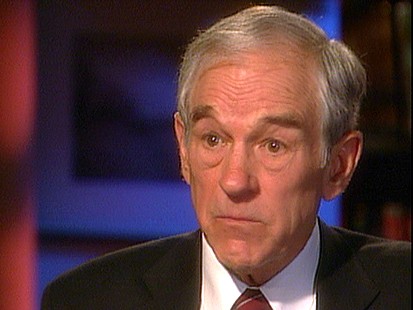 No, that's not a Mateel meeting. A gaggle of Ron Paul supporters was protesting outside the studios because Fox had barred their candidate from last night's Republican candidate debate. In the video Sean Hannity happens by and gets chased down the street and into the building.
You know, I think right wingers' protest slogans are a little more to the point. Why do leftists always try to give their slogans rhythm and make them rhyme? They get too wordy. "Fox News Sucks" says it all and more.
Paul says they're (Fox) going to suffer.
Paul will be crossing a picket line on his own to be on Leno tonight.
Photo borrowed from ABC News linked just above.
….
Addendum: And here's an anti-Fox video with some clips of personal attacks on Obama (includes the testosterone-laden encounter between O'Reilly and an Obama staffer discussed in a thread below). I love the quote from one of their talking heads: "It's going to be Hillary or Obama, both of whom are basically communists."
….
Second addendum: By tradition two very NH small towns numbering 45 voters in all cast their votes the night before any NH election. The results are in.
….
Third addendum: I guess Clinton had sort of a Pat Schroeder moment. Edwards was a jerk. Obama showed a little class.
Okay, I just watched the video. It wasn't a Pat Schroeder moment. In fact, it was the most genuine moment I've seen from her since her Tammy Wynette and cookies comment back in 92.
Edwards just lost a little of my respect. He lost Katha Pollitt's vote.
….
Fourth addendum: the King of Middle Earth endorses Kucinich.
The power is out in Redway, so I probably won't be posting once I leave my office. I just wanted to throw out a few interesting campaign tidbits.
Slate always has some of the best stuff.
….
Hitchens isn't necessarily anti-Obama, but he is clearly anti-Obamania. It a column with a straightforward if wordy title ("There is something pathetic and embarrassing about our obsession with Barack Obama's race") he writes:

To put it squarely and bluntly, is it because he

is

or is it because he

isn't

? To phrase it another way, is it because of what he says or what he doesn't say? Sen. Barack Obama of Illinois is the current beneficiary of a tsunami of drool. He sometimes claims credit on behalf of all Americans regardless of race, color, creed, blah blah blah, though his recent speeches appear also to claim a victory for blackness while his supporters—most especially the white ones—sob happily that at last we can have an African-American chief executive. Off to the side, snarling with barely concealed rage, are the Clinton machine-minders, who, having failed to ignite the same kind of identity excitement with an aging and resentful female, are perhaps wishing that they had made more of her errant husband having already been "our first black president."
He then moves into a tirade against religion (calling Huckabee an "idiot" in the process) and winds up with:

The unspoken agreement to concede the black community to the sway of the pulpit is itself a form of racist condescension. The sickly canonization of Martin Luther King Jr. has led to a crude rewriting of history that obliterates the great black and white secularists—

Bayard Rustin

,

A. Philip Randolph

,

Walter Reuther

—who actually organized the March on Washington. It has also allowed a free pass to any demagogue who can manage to get the word

reverend

in front of his name. The white voters who subconsciously make the allowance that black folks sure love to hear their preachers are not only patronizing their black brothers and sisters but also helping to empower white ministers or deacons who make the same pitch, from Jimmy Carter to Mike Huckabee. The Iowa caucuses of 2008 were not the end of our long national nightmare about race, but another stage in our protracted national nightmare of piety, "uplift," and deceptive optimistic windbaggery.
He's not mellowing with age, is he?
….
In the too little too late department, Hillary Clinton may have come up with her best line yet.

After a woman yelled up to her, "You know what? You really are likable," Hillary reflected on the quality of likability, about which she had been asked in the previous night's debate. "Obviously we all want to be likable," she said, "and I think it's good to have a likable president and if I remember a lot of people said they voted for George Bush because they wanted to have a beer with him. Maybe they should have left it at that."
She's lashing out a bit, trying to sell herself as the "doer" rather than the "talker." And she's even resorting to an old Rovian trick of suggesting that an Obama election would result in a terrorist attack, a clip certain to be used against Obama by McCain.
….
Meanwhile Bill O'Reilly provided a bit of unintentional comic relief as he got pushy with Obama.
….
Obama is way out in front in the polls in New Hampshire and South Carolina. He's tied with her in the meaningless "national polls." He would blow out his Republican Opposition in Iowa, though apparently Clinton would do better in Ohio.
I've been trying to think about where Clinton could be clever and mix things up. Because of the boycott of Michigan by the other major candidates, I gave up the idea of Clinton making some traction there as it wouldn't mean anything. I've changed my mind again. There will be two and a half weeks between New Hampshire and South Carolina, with only the Nevada caucus the weekend before (the primary calendar can be found here). Having little to lose, she should play up the race in Michigan and agree to debate only the other candidates in Michigan (Kucinich and Gravel). That gives her some air time while Obama can only make stump speeches and it could get her back "on message." She could make some good use of that time. But I wonder if she or her handlers have the imagination to try.
….
Meanwhile, here's a thoughtful piece. stating what may be the obvious as to why Edwards' campaign just isn't gelling.
….
Over at the other camp Romney is trying to salvage his campaign by billing himself as the guy who can "post up to Obama." There does seem to be a feeling that the election was won in Iowa last Thursday. But it's very early.
Addendum: Quiz time – which president was the only one to have lost both Iowa and New Hampshire before winning the nomination?