You are currently browsing the daily archive for December 3, 2007.
I was one of about a dozen Sohumers who braved the storm last night and joined the good people of Ferndale to watch the Ferndale tree lighting. Probably wouldn't have gone out of my way, but my daughter was attending a birthday party at the Discovery Museum in Eureka while a friend of mine (and de facto grandmother) took my son to the Ferndale Repertoire theater to see their version of Charlotte's Web (my son gives it a thumb's up). We met up in Ferndale which is dressed up nicely as usual.
And yes, we saw the spruce tree lit up, after listening to a band, some carolers, and a few speeches (including an ACLU-defiant blessing from the local reverend) while gusts of wind almost blew the stage down. Somebody who was crazy enough to volunteer was up in the tree the whole time with a flashlight checking on everything – man that must have been hairy!
The tree was lit up with a style that is just about identical to the tree at the east end of Golden Gate Park where the panhandle is attached. We then headed over the the Portuguese Hall (which is eerily identical to Belotti Hall on the fairgrounds) for linguica and beans. It was a good meal actually, and a very friendly crowd. Ferndale is a very friendly place as long as you meet their demographic criteria I guess.
Meanwhile, Stuart Altschuler, MFT is moving back to the Bay Area. (edit – he would be moving to the Bay Area for the first time actually, and somebody e-mailed me saying that he heard that Dr. Altschuler doesn't intend to move. I'll try to correct or confirm.)
Addendum: The Eureka Reporter reports that the guy with the flashlight was repairing damage to the lighting system on the tree, which explains why they were a bit late with the countdown. The guy should receive a special commendation.
The ER has a photo of the band, but no tree! (edit – I take it back, it was the second photo. Hope they don't mind that I use it.).
No other way to interpret this announcement.
Straight from the survey, Christine in Ferndale made a statement echoed by hundreds, "Most of all, love that it is free." Dorothy from McKinleyville said "I still can't believe it's free". Believe it, Dorothy. While paid daily papers are losing readership in droves, free dailies are blossoming. Staying free remains our core commitment to you, one we value above all others.

We do this with great passion and determination. We do it because we believe free daily papers represent the future. In an era of exploding free media sources, you expect and deserve no less. And so, our challenge is to control our costs while enriching our product for our readers and advertisers.

Helena in Arcata, I loved your comment, "It's actually a gift to the community." Our mission is to make that gift sustainable over the long haul.

We are going to make some very progressive changes as we move forward and we're excited to share those with you today.
Pay no attention to the man behind the curtain.
Electronic Edition

Today you will be able to access our new ePaper. We will be placing our entire newspaper on our Web site. You will see it exactly as it appears in print. You will have the ability to turn the pages with a click of a mouse and focus in on stories, photographs and advertisements. All you have to do is register to receive it. You will receive the ePaper by 2 a.m. the day of publication. No recycling, no blue bags, no late press runs, no late deliveries and no more walking to the end of the lane to pick up the paper. If the print is too small to read, just zoom in to increase the type size to fit your needs, and of course, it's all free.

Five-Day Print Cycle

We have made another key decision; starting Dec. 31 we are going to change our print cycle from seven days to five days a week. By cutting back two days a week, we can keep our core commitment to remain a free newspaper. Mondays and Tuesdays are difficult days to fill papers with local news content and ad content, which of course is what we are all about. Advertisers tend to buy later in the week and the amount of local business and government news is scarce. In a traditional newspaper you will find an abundance of Associated Press stories used to fill the space. That is not what we are about.
And they're going to change their comic strips and put their television listings online.
As I said previously (in a post where I was chastised for posting rumors about these very developments from a source I didn't want to identify), unlike some of the progressive bloggers I hope Eureka continues to be a two paper city. Even most major cities don't benefit from that competition.
I'm not clear from the piece that they're cutting staff.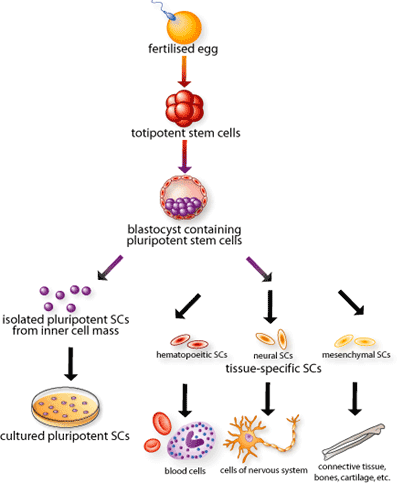 James Thompson, discoverer of embryonic stem cells, and a Japanese researcher named Shinya Yamanaka, have reportedly developed a process by which to reproduce stem cells without the need for embryos. It's not quite that simple as I'll get to, but you would think that the discovery would bring some peace between the polarities of the debate. It's not. When I went to the Human Events (a right wing periodical) site to get the link for one of the threads below, I came across a link to a Washington Post column by conservative commentator Charles Krauthammer who claims that Bush has been "morally vindicated" by the discovery.
Even a scientist who cares not a whit about the morality of embryo destruction will adopt this technique because it is so simple and powerful. The embryonic stem cell debate is over.

Which allows a bit of reflection on the storm that has raged ever since the August 2001 announcement of President Bush's stem cell policy. The verdict is clear: Rarely has a president — so vilified for a moral stance — been so thoroughly vindicated.

Why? Precisely because he took a moral stance. Precisely because, to borrow Thomson's phrase, Bush was made "a little bit uncomfortable" by the implications of embryonic experimentation. Precisely because he therefore decided that some moral line had to be drawn.

….

History will look at Bush's 2001 speech and be surprised how balanced and measured it was, how much respect it gave to the other side. Read it. Here was a presidential policy pronouncement that so finely and fairly drew out the case for both sides that until the final few minutes of his speech, you had no idea where the policy would end up.
Yeah, his final position was a real shock to my system.

Bush finally ended up doing nothing to hamper private research into embryonic stem cells and pledging federal monies to support the study of existing stem cell lines — but refusing federal monies for research on stem cell lines produced by newly destroyed embryos.
Let's recap now. In 2001 Bush killed a proposal to use embryos unused for in vitro fertilization which were going to be destroyed anyway on the basis that these embryos constituted life. Contrary to what Krauthammer says, it was not about the cloning per se. It was pandering to the pro-life crowd in denial about the existing embryos which will never see light of day as anything other than embryos.
From the speech:
On the first issue, are these embryos human life — well, one researcher told me he believes this five-day-old cluster of cells is not an embryo, not yet an individual, but a pre-embryo. He argued that it has the potential for life, but it is not a life because it cannot develop on its own. An ethicist dismissed that as a callous attempt at rationalization. Make no mistake, he told me, that cluster of cells is the same way you and I, and all the rest of us, started our lives. One goes with a heavy heart if we use these, he said, because we are dealing with the seeds of the next generation.
No argument in there. No foundation. No science. An "ethicist" trumps a "researcher." End of story. According to James Thompson whom Krautmammer quotes, Bush set the research back four or five years, potentially killing or extending the suffering of millions.
By the way, all those embryos which the pro-life ideologues in theory believe to be human beings, they will still be disposed of in unceremonious manner.
Lastly, Krauthammer's science is way off. Susan Solomon of the New York Stem Cell Foundation says that the process is not yet, nor may ever be, an adequate substitute for embryonic stem cells, merely a supplement.
It is not true. It is not even close to true. The new "induced pluripotentiary stem cells" (IPS for short) that scientists have now figured out how to make will be powerful tools for scientists studying the mechanisms of human diseases in their laboratories, and there is no doubt that this is an important scientific event. But these reprogrammed cells cannot be used to treat human patients in the clinic, because they were created using genes and retroviruses that can cause cancer in humans. Moreover, even if other, safe ways of producing these new IPS cells are found, no one yet knows the extent to which these new cells will behave like true human embryonic stem cells. Krauthammer and others who are seeking to justify current federal restrictions on embryonic stem cell research would like to think that IPS cells are exactly the same as embryonic stem cells, but they are not. We know now that human embryonic stem cell lines, both those that are recognized by the 2001 federal guidelines and those that have been developed since then, come in many different types and vary greatly from one to the other, most importantly in their ability to form differentiated cells (heart, pancreas, neurons) of a particular type that can be used for therapy. Will the new IPS cells be able to do this? We do not yet know. This new technique of developing stem cells is only a way station in a much longer journey, not a destination.

To suggest, as Krauthammer and others have, that we now have no need to work with stem cells created from embryos is to say that we can put aside the research that remains the most promising and important. It is a conclusion based on political, not scientific, considerations. Unfortunately, those political considerations seem to have motivated much of the reporting on these new discoveries — even though one of the scientists who discovered the new technology, Shinya Yamanaka, felt so strongly that his work did not pre-empt other kinds of stem cell research that he co-authored a letter with several colleagues published in the journal Cell Stem Cell titled "New Advances in IPS Cell Research Do Not Obviate the Need for Human Embryonic Stem Cells." Yamanaka and his colleagues wrote:

"We hold that research into all avenues of human stem cell research must proceed together. Society deserves to have the full commitment of scientific inquiry at its service. And science is a practice that works best when it is approached with an open and creative mind. Research into one approach can inspire new ideas in unpredictable and exciting ways."
But hey, she's got an agenda, right? She's just looking for excuses to "kill babies."
The image comes from this article from the Science Creative Quarterly, which is a nice summary of the science sans politics.